So, last week you met Tango (She says a special "Hi" to Than). This week I'm thrilled to introduce you to Ridley! Now today
Ridley is playing Cupid
, but he can also be seen playing in the garden, delivering flowers and dressing up in a variety of costumes. Ridley is the kind soul that first introduced me to
Digital Delights by Louby Lou,
and is thus the reason I'm now on their design team (whoot whoot!). You're going to be seeing a lot of Ridley and his girlfriend Rosie around here...so make nice! The
Delightful Challenge
this week is to make a love-theme project, and Cupid Ridley is perfect for that!
The bingo card is something I found on the internet...but it's not tagged, so I don't know where I got it. It came with a blank header, so I added the "HEART". Then I crumpled it up for some added dimension. The papers are some older Bo Bunny papers from my stash. I went looking for them so I could play along in the
Bo Bunny Card Sketch Challenge
this week. Bo Bunny is also having a giveaway on their Facebook Page, if you wanna look them up :)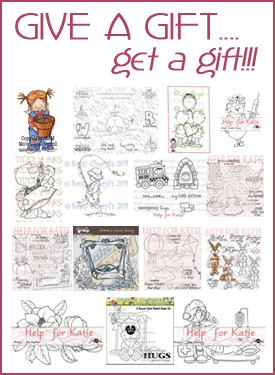 We just got word from
Jak Heath
that her fundraiser for Katie Renz has brought in over $15,000 so far! WOWEE that is amazing support for a fellow crafter. Whether you've already bought this fabulous set of images, or you still need to go pick it up, Jak is offering up some fabulous prizes on her blog. All you have to do is make a card with one of the images from the set and link it up
at this post
.